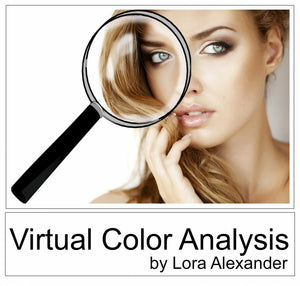 The Color Shop
Virtual Color Analysis
Regular price
$ 179.95
$ 0.00
Unit price
per
Tax included.

Find your true colors with a professional, in-depth color analysis performed by me exclusively. 
All you need are several (the more the better) digital photographs of yourself that accurately show your coloring. Newer cell phone cameras have improved greatly over the years so they are good to use. But older, digital photos that capture your essence earlier in life is very helpful, too.  
Here are the 3 Steps to begin your Color Analysis
 Purchase Color Analysis.

 Submit the Questionnaire by accessing it here 

(it will open a new page, and it should have the questionnaire ready to go). Please fill out as thoroughly and honestly as possible. Don't worry about 'influencing' me. I make my own decisions based on photos mainly, but questionnaire answers are helpful for various reasons. 

Read tips for the best photos to send to ensure an accurate analysis.

 Send digital photos to lora@prettyyourworld.com.

That's it! If you have any questions or concerns along the way, just email me.  
IF all photos are sufficient and I have no additional questions for you, (fyi: I often need more photos and have additional questions) your analysis should be done within five business days.
You will receive a written analysis as well as an eBook that corresponds to your season.
I will answer questions from you (via phone or email) for 2 weeks. Due to the volume of orders I get, I can't answer questions beyond this time frame unless you purchase more time with me and set up an appointment. 
Once you are comfortable with your analysis, individual Color Swatches can be purchased separately here.
(swatches are not included in the color analysis price).
If you have any additional questions moving forward, just shoot me an email at lora@prettyyourworld.com.
---