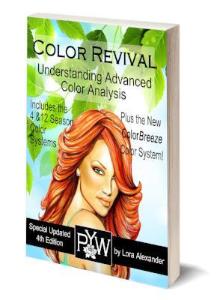 The Color Shop
"Color Revival" 4th Edition eBook
Regular price
$ 29.95
$ 0.00
Unit price
per
Tax included.
My most recently updated edition of my successful eBook Color Revival: Understanding the Advanced Color Analysis System.
WHO this is for:  Color Revival"  is geared for Image Consultants, Color Analysts, Makeup Artists, and anyone who has a passion for color and wants to know how to utilize it to make themselves or their clients look fabulous.
WHAT it is about: This 4th edition is jam-packed with the most up-to-date information about advanced Color Analysis along with the basics.
WHY you will want to read it: Discovering your 'season' sets the foundation for knowing just the right palette of colors to harmonize with your natural coloring.
The benefits are many: 
Never make another wrong color choice.
Save hundreds if not thousands of dollars by not purchasing makeup, clothing, and accessories that don't flatter you and you'll never wear again.
Save time by always having a working wardrobe that works together beautifully.
Whether for yourself or for your clients, find the colors that harmonize best to look younger, more confident, and more professional
Discover the power of color and how it has the ability to transform your life by saving you time and money and guaranteeing you will look your absolute best.
Packed with high definition photos of models for each season.
Sample palette of colors (20 colors for each of the 22 seasons). Yes, there are 22 total seasons in the ColorBreeze System!
Lots of charts and diagrams to understand concepts.
Learn how aging can affect your coloring
Color Analysis for Non-Caucasians (hint: the rules are the same!)
Hair color and makeup recommendations
and much more!

An introduction to the final piece of the Color Analysis puzzle:
The ColorBreeze Complete System
The latest update to an already accurate color system includes 7 more seasonal categories! This system is THE most complete & accurate system available anywhere!
With a total of 28 seasons (7 sub-seasons to each of the four main seasons), there is a seasonal category to fit anyone and a corresponding palette to go with it.
Another Bonus: Cheat Sheets that summarize the best & worst colors, proper contrast levels, etc.
How is this different from my previous editions of Color Revival?
Because each subsequent season is built upon the previous systems, some of the information will be the same, particularly when it relates to the 4 and 12 seasons. However, I did add many new photos and some additional information even to the old systems.
This is an updated 're-issue' of the original Color Revival book. I would say that probably 45% of it is the same and 55% is new.
Of course, the information about the ColorBreeze System is brand new. And the bonus introduction of the ColorBreeze Complete is so new, I haven't yet shared it anywhere on my websites!
Download Instantly!
---